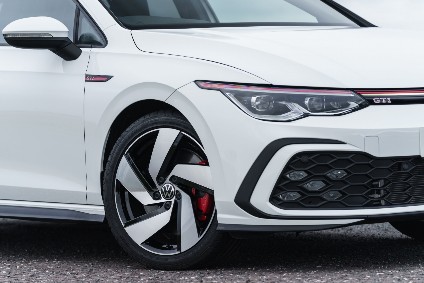 Red and silver GTI badges are positioned on the grille, tailgate and front wings
You can't blame Volkswagen for choosing not to mess with a decades-old formula of evolution when this has delivered such great results for the Golf GTI. There are some fundamental changes for the latest generation though, with frontal styling and interior digitalisation both proving controversial.
Eighteen months on since Volkswagen first showed us the latest Golf, the discussions about certain aspects of its appearance linger. Yet a lot of what some people seem to be taking their time to grow accustomed to is mere detailing.
Do looks matter?
The newly announced Clubsport has a beautiful set of wheels, something which the standard GTI possibly lacks. This is the problem with creating such high standards: many now believe the seventh generation GTI looked better than what we have now, but is that true? I do think that red paint makes all the difference for the Mark VIII, possibly because all the red trim on, for example, white cars, can be a touch too much. Who knows? The faster Golfs seem to be selling well enough so Volkswagen must be doing something right.
VW takes UK market leadership
The SMMT's March registrations data show us that the car is holding up well, even while the traditional segment leader tumbles down the sales charts. It's strange to see no mention of the Focus in either last month's top ten best sellers' list or even for the year to date.
The Mercedes A-Class has become Britain's most popular C segment hatchback, with 10,169 sold year-to-date, followed by the Golf with 7,896. Ford's most loved model and the brand itself are now down to second place, with Fiesta registrations at 11,645 in Q1, while the Corsa has risen to number one with sales of 12,413 cars. It isn't Vauxhall that's taken Ford's crown though: the Griffin logo brand is down in sixth behind BMW, Mercedes and Audi.
Volkswagen might have had just the one model in last month's top ten but helped by the Tiguan (7,384 and tenth place YtD) and multiple other vehicles such as the T-Cross, Polo and ID.3, the brand became the UK's sales leader in March and Q1. Ford's totals – 22,237 in March and 36,072 in Q1 couldn't compete with VW's equivalents (23,698 and 36,219). Can VW keep this performance up?
Ford won't enjoy being in an unfamiliar second place although the US company's Europe division insists that it values profits rather than pure volume. If overdue facelifts and updated engine options for the Fiesta and Focus arrive in the coming months – joining the ever-improving Puma – Ford might be able to pull back ahead of VW later in 2021. This is surely going to be a fascinating battle to watch.
If we look at the models that people have been buying in a cross section of European markets, it's clear that preferences are changing. Dramatically in some places too. Examples would include the Tesla Model 3 in France (the ninth most popular vehicle in March), Ford's Puma in Italy as well as in the UK, Peugeot now heads and shoulders ahead of all other brands in Spain thanks to the 208, e-208, 2008, e-2008 and 3008, yet things not changing too much in the largest regional market. Germans still love the Golf, even if sales are down fairly steeply in 2021 along with the entire market.
GTI – the high-price halo car
Where Volkswagen continues to enjoy a major advantage over just about every other C segment car is in the sales mix. You could even say it was ever thus. As Daimler has been finding with the A-Class in some countries, the UK being the obvious one, lots people not only don't mind paying more for brand name; they positively enjoy doing so. And the GTI is the car they look to as a halo model even if they end up choosing one of the lesser variants in Life, Style or R-Line trim levels.
Manual or DSG?
Even if you know that the whole package, and by that I mean platform and powertrain have been carried over albeit with a vast number of tweaks, still the newest model can surprise with its level of sophistication. And as a GTI, with its speed. The one I borrowed from Volkswagen UK, which came with the optional seven-speed DSG, can reach 62 mph in 6.3 seconds, with top speed restricted to 155 mph. If if the dual clutch transmission still isn't perfect in some conditions – mostly at low speeds where it can be a tad slow to shift – it's a terrific alternative to the standard six-speed manual in almost all ways.
Things that buyers will be drawn to would include the feeling you get from the first touch of the door handle. It's the usual solid feel and weighting which most manufacturers either can't or won't recreate. People really do love this sort of thing and comment on it.
The 1970s meet the 2020s
Once you look inside, there's an obvious hat tip to VW's heritage in the form of a houndstooth pattern for the neoprene seat facings, along with many very 2021 touches such as two handy phone-sized pockets on each seat-back along with one lower down into which a laptop would fit. You also get soft lighting strips across the dashboard and doors which provides a link to a light-strip below the bonnet that connects the headlights.
Another interior and exterior link-up is the honeycomb pattern which appears not only on the dashboard and door trims but also across the front of the car below the registration plate. There are also multiple lights which have the same shape below each headlight.
No need for a name badge
Returning to the model as something which the branding people would term an 'icon', I can even allow that as nowhere on the exterior do you see the word GOLF. It's just not needed. The only place I could find the word was on a piece of plastic trim above the wireless phone charging pad.
The tailgate carries a silver-on-black VW emblem and positioned below this is one of four red and silver GTI badges, the others being on the front wings and just above the grille. As with some many of the brand's most recently released models, the word Volkswagen (yes, lower case) can be seen at the base of some glossy black trim on each front door. Overall, it's a pleasing mix of minimalism and classic hot hatch cues.
Haptic (un)happiness?
As I've noted before, anyone who wants as few physical controls as possible in a car will love this latest Golf. Other may wish for heating and cooling controls which can be quickly and easily accessed without removing your eyes from the road for too long. Yes there are some physical controls but they aren't nearly as good as what VW specified for the Mark VII. Voice controls? I gave up asking for the driver's seat heating to be activated after three failed attempts. I even changed my accent but that didn't help. I was offered navigation to SEAT UK's offices though.
Along with those fantastically firm yet comfy front seats, other nice things about the interior would include the cubby box below the nicely padded armrest which swallows a fair amount of stuff, while the door bins are fantastically big – even the ones in the back – and felt lined so there's no rattles.
I'd prefer a bit more volume and sportiness from the exhaust's tailpipes but Volkswagen would likely say if you want that, then go buy a Civic Type-R or a Hyundai i30 N. The proof of its argument is there for all to see in the sales numbers, with neither of those cars being much in evidence on our roads. You see a lot of Golf GTIs though and even with the long downturn for the UK market which was finally broken in March, this car spotter has noticed a fair few Mark VIII GTIs in my part of the world these last months.
Conclusion
As to whether this is the best GTI yet, I'd probably say it's the most sensible if not the sharpest or most exciting. The electronic safety systems are naturally more advanced than what we saw in the previous generation, the interior is more spacious, build quality seems top notch and economy is also impressive: it delivered 38 mpg overall for me. I think though, a GTD or an R might somehow be what I'd be seeking in a fast Golf. Which, when you think about it, reinforces the point that Volkswagen has all the bases covered in this segment, no matter what seems to come at it terms of competition.
Power and torque for the Golf GTI's turbocharged 2.0-litre engine are 180 kW (245 PS) and 370 Nm. The CO2 average is 168 g/km WLTP. On The Road ;ricing starts at GBP35,010.