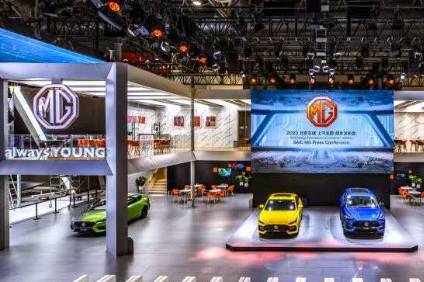 MG sold a total 221,000 vehicles overseas in the first nine months of 2020, equivalent to one third of the total overseas sales by all Chinese automakers.
China has rebounded strongly from the COVID-19 pandemic earlier this year, with GDP expanding by 4.9% year-on-year in the third quarter after growing by 3.2% in the second quarter, according to Chinese government data. By contrast, most countries in the region continued to suffer from shrinking economic output, as they struggled to control the COVID-19 pandemic.
China's recent growth has been driven by a strong rebound in exports, ironically helped by soaring demand for medical equipment. Although its domestic economic recovery has also gathered pace, spurred on by government stimulus, low interest rates and other monetary easing measures, the government is increasingly focused on expanding its political and economic influence overseas.
In the automotive sector, domestic vehicle sales have risen year-on-year in each of the last seven months after an almost year-long decline which began in July of last year – when the government simultaneously introduced stricter emissions regulations and cut subsidies on new-energy vehicles (NEVs). Total vehicle sales in the first ten months of 2020 were still down by just 4.7% at 19.7 million units, according to data compiled by the China Association of Automobile Manufacturers (CAAM), reflecting a more than 42% plunge to 3.67 million units in the first quarter of the year.
Market recovery is expected to continue in the final months of the year and even pick up speed next year.
Market recovery is expected to continue in the final months of the year and even pick up speed next year, with some local analysts forecasting double-digit growth for 2021. The Chinese government announced new measures in November designed to drive the domestic automotive industry forward, including encouraging local governments to further ease license plate quotas and other restrictions, promoting small car and truck sales in rural areas and providing incentives to people switching from polluting internal combustion engines.
The government has strengthened its focus on developing the new energy vehicle sector by stepping up the roll out of recharging infrastructure. By 2030 it wants 25% of total vehicle sales to comprise new energy vehicles and also aims to have one million fuel-cell electric vehicles in circulation by then. By 2035 battery-powered vehicles are expected to have become the main segment in the overall vehicle market, while public transportation vehicles will be exclusively battery-powered.
The recent domestic sales decline has also galvanized China's domestic automakers into stepping up their overseas expansion. Exports have risen sharply in the last few months, with the CAAM data showing that shipments of built-up vehicles to markets overseas jumped by almost 26% to 109,000 units in October after a similar increase in September, while year-to-date shipments were down by less than 2% at 819,000 units. This does not include Chinese vehicles produced overseas.
State-owned SAIC Motor and BYD Auto are increasingly looking to increase overseas sales of new-energy vehicles, particularly battery-powered electric vehicles. China is by far the largest single market for electric vehicles globally, with 719,000 units sold in the first ten months of 2020 and a further 182,000 plug-in hybrid vehicles. China-based vehicle manufacturers – both domestic and foreign-owned – are looking to leverage growing economies of scale in their local supply chains to target overseas markets.
SAIC Motor, the country's largest automaker, in October announced it is aiming to sell more than 1 million vehicles per year outside China by 2025, including 100,000 electric vehicles in Europe alone. The company, which acquired the MG brand in 2007, sold a total 221,000 vehicles overseas in the first nine months of 2020, equivalent to one third of the total overseas sales by all Chinese automakers. The company's growing overseas presence includes significant manufacturing operations in Thailand and India.
BYD Auto has been particularly successful in exporting large battery-driven buses, but it is increasing its focus on selling battery-powered passenger vehicles. Geely Automobile Holding is also very active overseas, with a major shareholding in Malaysian vehicle manufacturer Proton Holdings and full control of Sweden's Volvo Cars. Group sales were down by 7% at 1,015,498 units in the first ten months of the year.
Great Wall Motor, which reported a 148% rise in exports in October to 10,804 units, is also expanding aggressively overseas. It has just completed the acquisition of GM's Rayong vehicle assembly plant in Thailand, having agreed earlier this year to buy the US automaker's Talegaon plant in India. It is also expanding its assembly plant in Russia, while continuing to expand its sales network globally.
In November China signed up to the Regional Comprehensive Economic Partnership (RCEP), an economic co-operation agreement between ASEAN's ten countries, China, South Korea, Japan, Australia and New Zealand, which aims to progressively lower tariffs and counter protectionism, encourage investment and allow "freer" movement of goods within the region.
The agreement will only strengthen China's position in the Asia-Pacific region in terms of trade and market access, investment and access to raw materials, while also increasing its political influence in the region.
READ MORE: https://www.just-auto.com/analysis/recovering-china-increases-focus-on-overseas-markets_id199058.aspx?utm_source=analysis-feed&utm_medium=rss-feed&utm_campaign=rss-feed