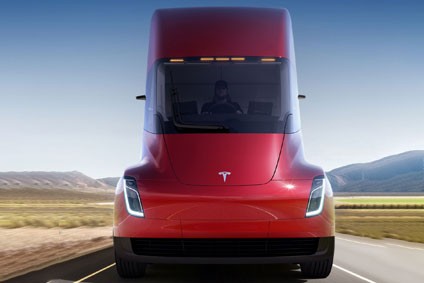 Semi will be built in Texas
With a market capitalisation that's risen by more than US$150bn over recent weeks, Tesla seems unstoppable in the eyes of shareholders. It's so far ahead of Toyota, Volkswagen, Nio, BYD and Daimler that some even talk of this becoming the world's first trillion-dollar car maker. What's next then for the vehicles-making part of this multi-division company?
Perhaps the proof that Tesla isn't really about cars, as some say, comes from the fact that during the last 12 months, we've seen hardly any presentations of fresh models or prototypes. That's understandable though, as the company has a lot going on and 2019 was a banner year for news. Elon Musk has skillfully reversed a former over-promise but under-deliver status quo so the media and public alike now have to take a wait and see approach. Now, the firm has become good at delivering surprises. The markets seem to like what they see too, with the share price hitting a record US$607.80 last week.
Trucks: big and…a little less big
A hint of mystery surrounds the Semi, a low-drag US Class 8 heavy truck which Tesla promised had a production future when it revealed prototypes three years ago. Aside from stating that its JV factory in Nevada would supply the giant battery packs, until July this year, not much else had been said when it came to hard facts about where series production would take place. Even though we know it will be in Texas, there's still no firm date for customer deliveries. Will it be next year or the one after before big rigs roll out of the Travis County factory?
The Semi might well become available in 2021, which is also when the Cybertruck is due to roll off the line at Tesla's under-construction plant in Texas. The maximum range is said to be in excess of 500 miles/800 km, the towing rating is a claimed 14,000 pounds and pricing starts at $US39,900.
The base, rear-wheel drive version has a single motor and a stated maximum range of 250 miles (400+km), claimed 0-60 mph time of 6.5 seconds and a towing rating of 7,500 lbs. One step up is the Dual Motor version which has all-wheel drive, 300+ miles (circa 500 km) of range and a towing rating of 10,000 lbs (4,535 kg). Its 0-60 mph time is 4.5 seconds.
Unlike the brand's other vehicles, this one will have stainless steel panels. These could be key to understanding the whole project. As the vehicle revealed in November 2019 was a prototype or 'Alpha' as the company called it, understandably, no weight was stated. Tesla might be intending to save the cost of crash testing if the Cybertruck ends up with a Gross Vehicle Weight in excess of 10,000 pounds (more than 4.5 tonnes). The United States classifies such vehicles as Class 3 trucks. The heavy, unpainted body panels would also in theory negate the need for a paint shop.
A weeks after the Cybertruck was revealed in late November 2017, Tesla said the highest price Tri-Motor variant would come first – in 2021 – with the cheaper single motor delayed until 2022.
In March this year, Elon Musk said he was considering certain locations for a potential "Cybertruck Gigafactory" in "central USA" and "Model Y production for east coast too". Two months later there were reports claiming that a site near Austin in Texas had been selected, although others claimed Tulsa was also in the running. Then on 22 July, the firm's chief executive announced that south-central Texas had been selected as the location for a manufacturing plant. The company said it would spend US$1.1bn at the site near Austin airport and produce the Cybertruck, Semi, Model 3 and Model Y there.
Elon Musk stated in July that more than 200,000 refundable US$100 deposits had been taken for the Cybertruck. More recently, the company's leader said a revised model would be announced "in a month or so", which was taken to mean either by Christmas or not too far into the new year.
A Corolla-sized car to come?
The company's leader has lately been talking again about a potentially smaller car than the 4.8 m long Model 3 and Model Y. Back in June 2018, Musk replied to a question at the annual shareholders' meeting, stating, "I think we'll do a compact car in less than five years."
It will be interesting to see what sort of vehicle this turns out to be: a 4.3-4.5 m long sedan for North America and China and/or a hatchback for Europe. Production might take place in the USA, China and Germany too. Yet with all that Tesla has to be working on already, such a model or models realistically won't arrive until 2023.
It isn't clear whether or not this is the same vehicle as the one mentioned by Elon Musk at an event in September. "We're confident we can make a very, very compelling (US)$25,000 electric vehicle, that's also fully autonomous," he insisted.
Reports for many other manufacturers' future models are grouped in the OEM product strategy summaries section of just-auto.com.
Future platform intelligence
More detail on past, current and forthcoming models can be found in PLDB, the future vehicles database which is part of GlobalData's Automotive Intelligence Center. That includes the Teslas not included in this report.
The next OEM to have its future model plans looked at will be Dongfeng Motor.
READ MORE: https://www.just-auto.com/analysis/tesla-future-models_id198899.aspx?utm_source=analysis-feed&utm_medium=rss-feed&utm_campaign=rss-feed